Installation and Repair — Custom, Specialty, and Standard
Glass brings instant radiance and splendour to any room. Its translucence and ability to reflect light opens up a space, whether indoor or outdoor, providing a restful and "airy" feeling. Let us help you add beauty and value to your home with the distinctive lustre of glass.
Testimonial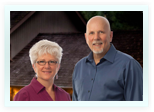 "Wee are just thrilled with the beautiful new glass-surround shower in our new bathroom — it adds so much light, and makes the room seem very open and fresh.
H & L Glass gave us friendly, personal service — and we were especially impressed with the level of professionalism of their installers. The whole experience left us feeling very happy and completely satisfied."
Charlie/Cindy V.
We can provide:
repair and replacement of all types of residential windows including failed sealed units
mirrors, including bevelled or custom size cut (we carry many standard size bevelled edge mirrors in stock)
manufacture and repair of window and patio door screens
plexi-glass and lexan
glass table tops
glass shelving
frameless shower doors - custom and standard sizes
tub enclosures
steam showers
mirage retractable screen doors - single and double door
solar window film, security film and roller shades
tempered safety glass
picture glass - clear and non-glare
cabinet door glass - clear, obscure or bronze
window and door renovations
interior glass railings and partitions